Ultra Sensitive System Whipped Moisturizer
---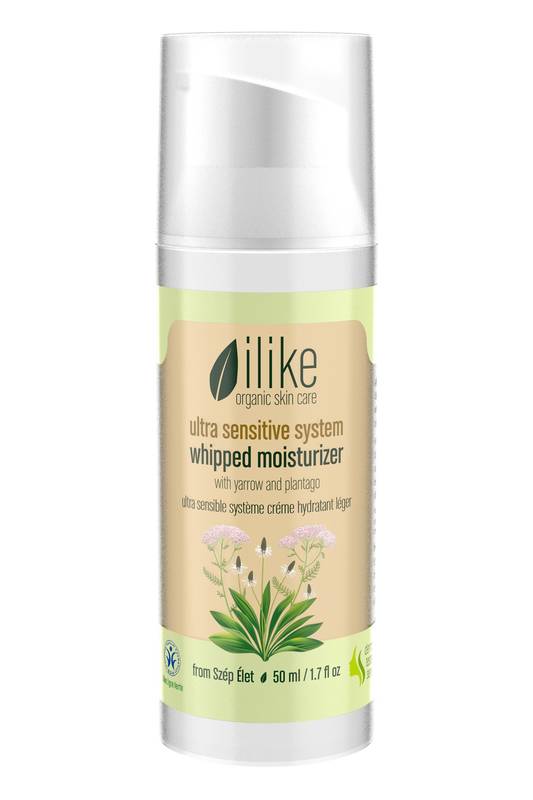 Skin types & conditions
moisturizers
pre- or post-waxing & shaving
sensitivity/rosacea
ultra sensitive system



The ilike organic skin care Ultra Sensitive System Whipped Moisturizer is a light texture and essential oil free moisturizer for sensitive and hypoallergenic skin that protects against the abuse of the elements. Dermatologist tested on the most sensitive, hypoallergenic skin.
Skin types & conditions
moisturizers
pre- or post-waxing & shaving
sensitivity/rosacea
ultra sensitive system
Effects
hydrates
skin feels soothed and calmed
protects against the abuse of the elements
Directions for application
Apply a thin layer of moisturizer over entire face and neck area after cleansing and toning skin. Use moisturizer after your ilike Rosehip or Grape Stem Cell Solutions Serum or enrich it with the ilike Yarrow Oil to achieve an even more radiant complexion. Recommended home use is twice a day.
Active Ingredients
Yarrow, Plantago, Grapeseed -- Vitamins A, B, C, D, E and K, Beta-Carotene (Provitamin A), Bioflavonoids, Polyphenols, Resveratrol, OPCs (Olygomeric Proanthocyanidins), Fatty Acids, Citric Acid, Fruit Acids, Protective Enzymes, Pectins, Tannins, Mineral S alts, Trace Elements.