Tomato Face & Body Moisturizer for Exposed Skin
---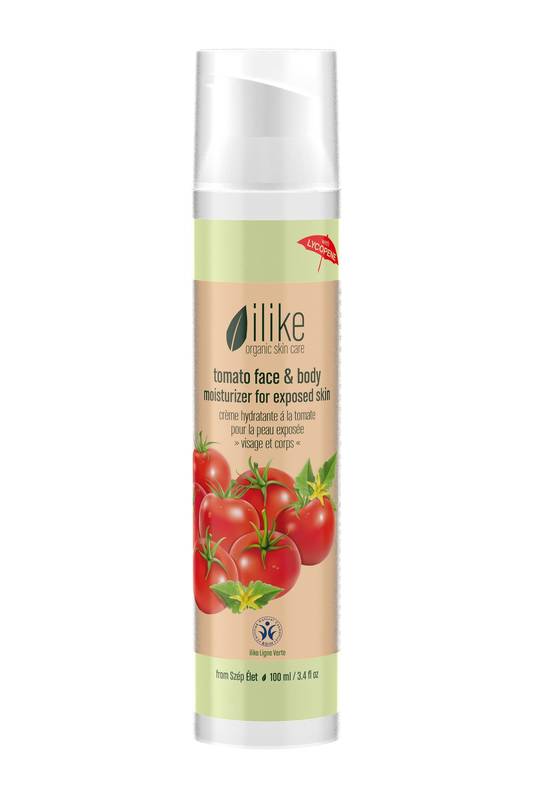 Skin types & conditions
anti-aging for mature skin
anti-aging for premature skin
anti-aging for youthful skin
body care
dry skin
hand and foot care
moisturizers
specialty products


This antioxidant rich moisturizer for exposed skin helps protecting skin from head to toe by boosting its natural UV protection capacity while promoting a healthy glow no sun needed! It is a nutrient rich anti-aging lotion that helps reducing the harmful effects of the sun. Lycopene rich organic tomato and other bioflavonoid rich herbal ingredients help prevent sunburn and long term sun damage while calming and hydrating the skin pre- and post sun exposure.
Skin types & conditions
anti-aging for mature skin
anti-aging for premature skin
anti-aging for youthful skin
body care
dry skin
hand and foot care
moisturizers
specialty products
Effects
supplies antioxidants to fight free radical damage (aging)
helps protecting skin by boosting its natural UV protection capacity
helps with sunburn, irritation and redness
hydrates
vitalizes
soothes
promotes natural tan
enhances a healthy complexion
Directions for application
Apply a thin layer of moisturizer over entire face, neck, décolleté, shoulders, arms and other areas where your skin is exposed. Use an ilike serum before the moisturizer or enrich moisturizer with an ilike oil concentrate to achieve an even more radiant complexion. Use twice a day.
Active Ingredients
Tomato, Carrot, Aloe, Horse-Chestnut Seed, Sesame Seed Oil, Calendula, Corn Germ Oil, Vegetable Oil, Shea Butter, Lavender Oil, Sunflower Seed Oil, Ascorbic Acid – Lycopene, Bioflavonoids, Carotenoids, Fatty Acids, Oleanolic Acid, Vitamins A, B, C, D, E, F and K, Triterpene Glycosides, Copper, Manganese, Mineral S alts, Trace Elements.