Rosehip Exfoliator
---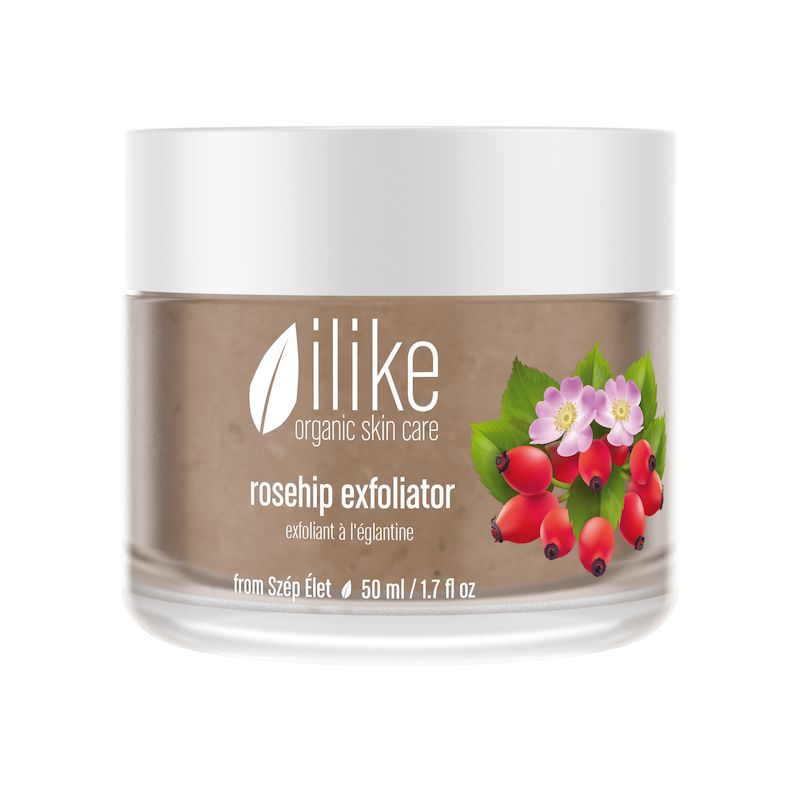 Skin types & conditions
acne care
anti-aging for youthful skin
exfoliators & peels
hormonal imbalances
hyperpigmentation
oily, acne, inflamed skin
sensitivity/rosacea
50 ml / 1.7 fl oz — 250 ml / 8.4 fl oz


This Vitamin C-rich exfoliating and clarifying mask from ilike organic skin care gently removes impurities. Its Lactic Acid content loosens dead cells while rosehip and light herbal oils hydrate the skin. The scrubbing particles are cornmeal pieces. Use it on your face or your body.
Skin types & conditions
acne care
anti-aging for youthful skin
exfoliators & peels
hormonal imbalances
hyperpigmentation
oily, acne, inflamed skin
sensitivity/rosacea
Effects
sloughs off dead skin cells to reveal a new layer of skin
pores appear smaller
hydrates
promotes a brighter complexion
Directions for application
Apply a thin layer of exfoliator over entire face with circular motions and wet hands after cleansing (avoid the eye area). Leave on for additional 5-10 minutes (may be steamed). Gently scrub off with a damp face towel using again circular motions. Follow with an ilike mask and finish with ilike serum and moisturizer. Recommended home use 1-2 times a week or as needed.
Active Ingredients
Rosehip, Honey, Corn Meal, Zinc Oxide, Bentonite Clay, Corn Germ Oil, Lactic Acid, Algae, Lemon Peel Oil, Lemon Grass Oil, Zinc Sulfate, Sunflower Seed Oil, Ascorbic Acid -- Vitamins A, B, C E, K and P, Bioflavonoids, Beta-Carotene, Omega-3 Fatty Acids, Mineral Salts, Trace Elements