Retinal .05% Moisturizer
---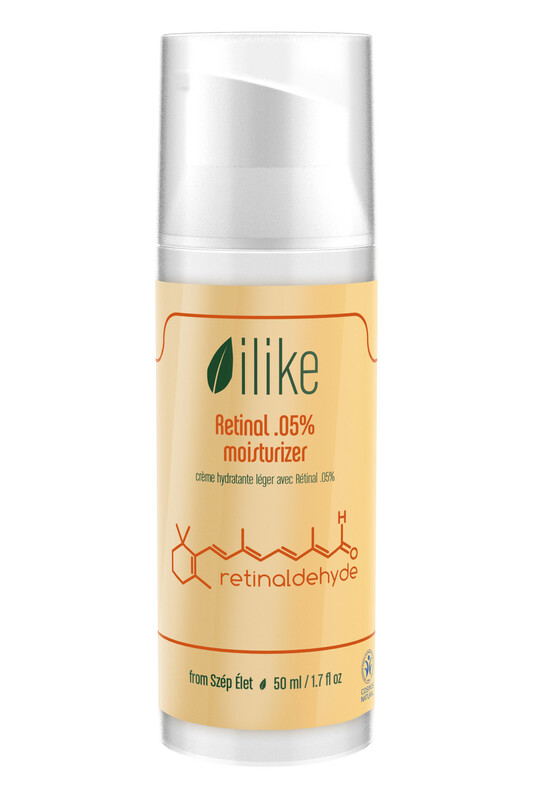 Skin types & conditions
anti-aging for mature skin
anti-aging for premature skin
anti-aging for youthful skin
dry skin
environmental damage
hyperpigmentation
moisturizers
oily, acne, inflamed skin


Skin renewal daily moisturizer for all skin types with Retinal that acts 11 times faster than Retinol. It is clinically proven to help with cell reproduction by slowly exfoliating the skin, and promote collagen production and elasticity to reduce the appearance of fine lines and wrinkles. Its antibacterial properties leave the skin healthier and fresher, while Hyaluronic Acid plumps from the inside out.
Click here to read more about Retinoids.
Skin types & conditions
anti-aging for mature skin
anti-aging for premature skin
anti-aging for youthful skin
dry skin
environmental damage
hyperpigmentation
moisturizers
oily, acne, inflamed skin
Clinical Studies
Clinical Studies (Retinal .05% Moisturizer)
Report No. L36306/22/JSHH
user and instrumental test under dermatological control
Users: 27 people, 25+ years old
Skin types: all skin types, other skin types (Rosacea, Acne)
Usage: daily on clean skin and eye area for 4 weeks
Declarations are confirmed only if the ratio of received positive responses to the total number of subjects participating in the study is above 50%. The study concluded that the tested product is very well tolerated by the subjects, there are no contraindications to its use.
Results after 4 weeks of use:
100% reported the feel of intense and deep hydration
100% reported that the product improves the texture of the skin by tightening and smoothing it, as well as improving its elasticity
92% reported the sense of skin regeneration
92% reported the reduction of new fine line appearances
92% reported the reduction of signs of aging (wrinkles)
96% reported beneficial effects on Acne
96% reported beneficial effects on Rosacea
100% reported improved skin appearance, fresh and healthy feel of their skin
100% stated that the product left a pleasant skin feel
100% felt the product was easy to use and apply
Machine tests
10 people, 4 weeks of usage
Instrumental test of skin moisturizing level using Corneometer® CM 825
Product efficacy is confirmed in case of the positive results obtained in more than 50% of users. The product moisturizes the skin when the parameter value increases.
Result: skin moisture level has increased in all participants compared to before usage, therefore the product moisturizes the skin.
Instrumental test of biomechanical skin parameter
using Cutometer® MPA 580
The product improves skin elasticity when the parameter value increases, improves skin firmness when the parameter value decreases.
Results:
The product improves skin elasticity by an average of 3%
The product improves skin firmness by an average of 47%
Wrinkle analysis
using Primos 3D Lite (images below)
The product reduces the length, the number, the volume and the area of wrinkles when the parameter values decrease.
Results after 4 weeks of use:
reduces wrinkles length by an average of 5%
reduces wrinkle count by an average of 14%
reduces wrinkle volume by an average of 9%
reduces wrinkle area by an average of 4%
Study Images
Effects
Clinically proven:
helps to reduce signs of aging
helps with collagen production
smoothes wrinkles and fine lines
helps to prevent wrinkle formation
antioxidant and vitamin supplement
skin feels intensely and deeply hydrated
works for improved elasticity feel of the skin
has soothing effect
has antibacterial properties to reduce and prevent acne
Directions for application
Apply a thin layer of moisturizer over entire face and neck area. Use an ilike serum before moisturizer or enrich moisturizer with an ilike oil concentrate to achieve an even more radiant complexion. Recommended home use is twice a day.
Active Ingredients
Apricot, Rowan Sorb, Carrot, Corn Germ Oil, Sea Buckthorn Oil, Hyaluronic Acid, Retinal, Ascorbic Acid, Sunflower Seed Oil -- Vitamins A, B, C, D and E, Bioflavonoids, Fructoses, Fruit Acids, Fatty Acids, Pectins, Beta-Carotene (Provitamin A), Biosugars, Plant Proteins, Mineral Salts, Trace Elements