Rejuvenation Booster with Carotene Essentials and Copper
---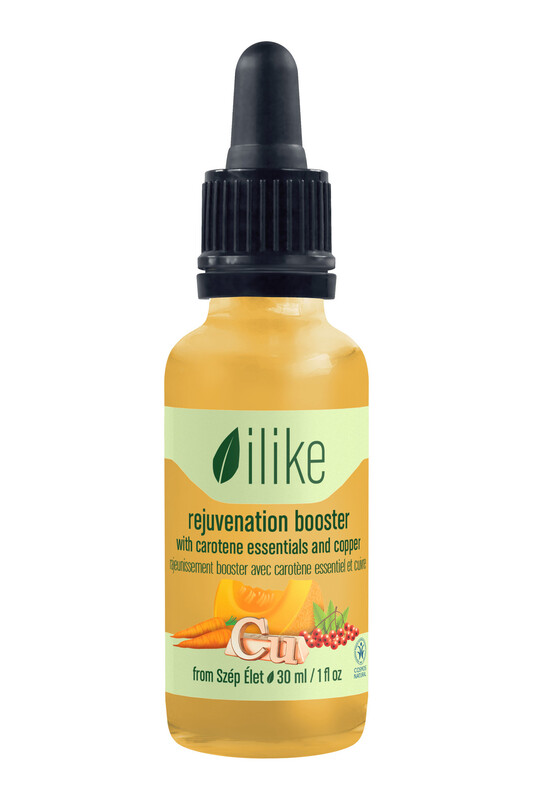 Skin types & conditions
anti-aging for mature skin
dry skin
sensitivity/rosacea
serums & oil concentrates


The ultimate concentrated skin quencher for mature, aging skin types with two types of hyaluronic acid and copper for lifting and immediate hydration. Potent antioxidants fight free radicals that cause skin aging.
Clinical Studies - 4 weeks of usage with dermatologist control:
- Increased elasticity in 92% by 17% (Cutometer MPA 580)
- Deeply hydrated skin in 88%
- Visibly reduced wrinkles and fine lines in 72%
- Wrinkle lengths decreased by 5%, wrinkled areas decreased by 5%, number of wrinkles decreased by 12% (Primos 3D)
- Increased tightness by 24% (Cutometer MPA 580)
- Regenerated, revitalized skin in 80%
- Refreshed skin in 100%
Skin types & conditions
anti-aging for mature skin
dry skin
sensitivity/rosacea
serums & oil concentrates
Effects
oilless hydration, moisture boost
antioxidant and vitamin booster
skin feels firm and lifted
improves elasticity
regenerates and strengthens the skin
smoothes wrinkles and fine lines
Directions for application
Use 1/3 of the dropper for face, 1/2 of the dropper for face and neck before any serum and moisturizer.
Active Ingredients
Carrot, Cantaloupe, Rowan Sorb Apple, Hyaluronic Acid, Hydrolyzed Glycosaminoglycan, Copper, Natrium PCA -- Beta-Carotene (Provitamin A), Vitamins A, B, C, D, E, F and K, Bioflavonoids, Citric Acid, Malic Acid, Fatty Acids, Pectins, Tannins, Polysaccharides, Mineral Salts, Trace Elements