QuadDefense™ Hydrating Micellar Mist
---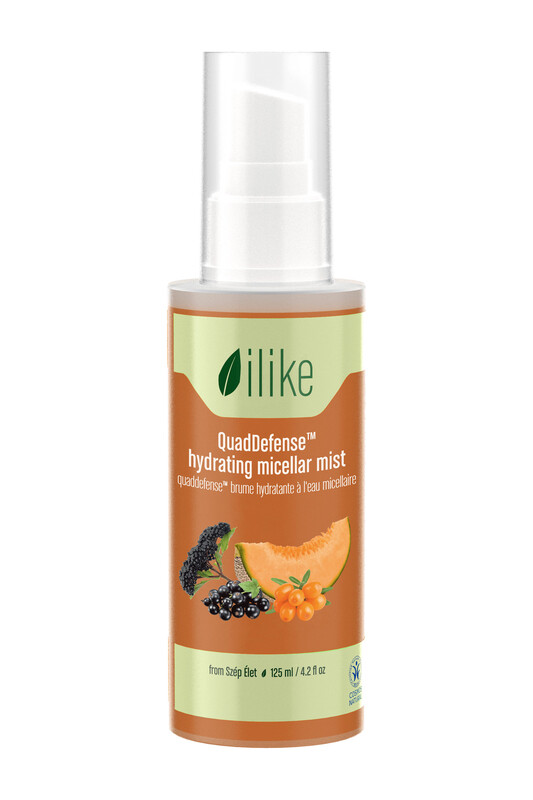 Skin types & conditions
anti-aging for premature skin
anti-aging for youthful skin
environmental damage
sensitivity/rosacea
toners

Take your toner to the next level!
This hydrating mist - containing powerful antioxidants from Sea Buckthorn fruit and oil - is ideal for a daily facial cleansing routine or in-between refreshments of devitalized, tired, stressed or environmentally compromised skin. The natural radiance of the skin reappears for a visibly fresher complexion.
Skin types & conditions
anti-aging for premature skin
anti-aging for youthful skin
environmental damage
sensitivity/rosacea
toners
Effects
helps revitalize pale, tired, stressed skin
helps protect against the abuse of the elements
helps cleansing, removing makeup and eye makeup
skin feels soft, hydrated and rejuvenated
Directions for application
To hydrate: simply spray mist onto the skin (several times a day). To cleanse: apply mist over entire skin surface with a cotton pad and wipe off. Use after cleansing or mask to remove excess products. Follow with an ilike serum and moisturizer.
Active Ingredients
Sea Buckthorn Fruit, Sea Buckthorn Oil, Sunflower Seed Oil -- Carotene (Provitamin A), Vitamins A, B, C and E, Bioflavonoids, Omega Fatty Acids, Lipids, Amino Acids, Folic Acid, Citric Acid, Malic Acid, Pectins, Tocopherols, Phenols, Terpenes, Tannins, Sterols, Polysaccharides, Mineral Salts, Trace Elements