QuadDefense™ Essence with Sea Buckthorn
---

Everyone has some level of environmental damage on their skin. Whether it is caused by UVA, UVB or blue light, pollution, weather or personal choices (diet, smoking etc), the result may include loss of elasticity and nutrients with increased dehydration and dullness. The concentrated antioxidant-boosting QuadDefense™ Essence from ilike organic skin care is clinically proven to help against free-radical activity in the skin to slow the aging process, smooths lines, rehydrates, and improves all over glow and elasticity.
In a super hydrator Hyaluronic Acid base 4 antioxidant boosting key ingredients
Sea buckthorn
Cantaloupe
Elderberry
Blackcurrant
…fight against environmental damage by
Light damage – UVA/UVB (sun, light bulbs), IR light, Blue Light (monitors, phones)
Pollution – smog, dust, dirt, irritants, makeup
Weather – cold, heat, wind, burn, heating/air conditioning
Lifestyle choices – diet (gluten or lactose allergy or intolerance, too much protein or glucose etc), smoking (nicotine caused iron deficiency and dehydration), too much alcohol, certain prescription and recreational drugs, certain sports or activities (skiing, swimming, sweaty sports etc)
…causing
Loss of nutrients – loss of antioxidants and vitamins
Loss of elasticity - fine lines, loose skin, loose pores
Dullness – pale, stressed, tired looking or anaemic skin
Dehydration – surface or deep layer moisture deficiency
…for
Anti- free radical activity
Increased elasticity, smoothed lines
Revitalization
Increased hydration
Skin types & conditions
dry skin
environmental damage
serums & oil concentrates
Clinical Studies
Clinical Studies (QuadDefense™ Essence with Sea Buckthorn)
Skin type: mature, dry, surface and deep layer water deficiency, oily seborrhea (seborrhea oleosa), 40+
Usage: applied 2 times a day (am & pm) to clean face and eye area for 4 weeks
Source: Report No. 90931/21 JSHH report of use test and instrumental test under dermatological control.
User test under dermatologist control: 25 people.
Results: The product is safe to use per the instructions, no contraindications. After 4 weeks of use:
100% reported that the product deeply hydrates
84% reported that the product reduced wrinkle appearance
92% reported decrease in aging symptoms, such as wrinkles
88% reported the feel of skin detoxification
96% reported increased elasticity and pleasant feeling of the skin
100% reported that the product is easy to use and easy to spread
80% said that the aroma of the product was pleasant
80% said that the intensity of the product was adequate
Machine tests: 10 people, 4 weeks of usage
Corneometer CM 825 hydration test: for test useability, the parameters defining skin hydration level has to increase.

Result: The parameters defining the hydration level of the skin increased for all testers compared to before product use, therefore the product hydrates the skin.

Cutometer MPA 580 elasticity test: for test useability, the parameter defining skin elasticity level has to increase, and the parameter for skin tightness has to decrease.

Result: The product increased the elasticity of the skin by an average of 8% and improved the tightness by an average of 17% compared to before product use.

Primos 3D wrinkle test (images are attached):: for test useability, the wrinkles need to show decrease in length, quantity, volume, and area compared to before product usage.

Results (after 4 weeks of regular usage):

Length of wrinkles decreased by an average of 6%
Number of wrinkles decreased by an average of 18%
Volume of wrinkles decreased by an average of 8%
Area of wrinkles decreased by an average of 4%
Study Images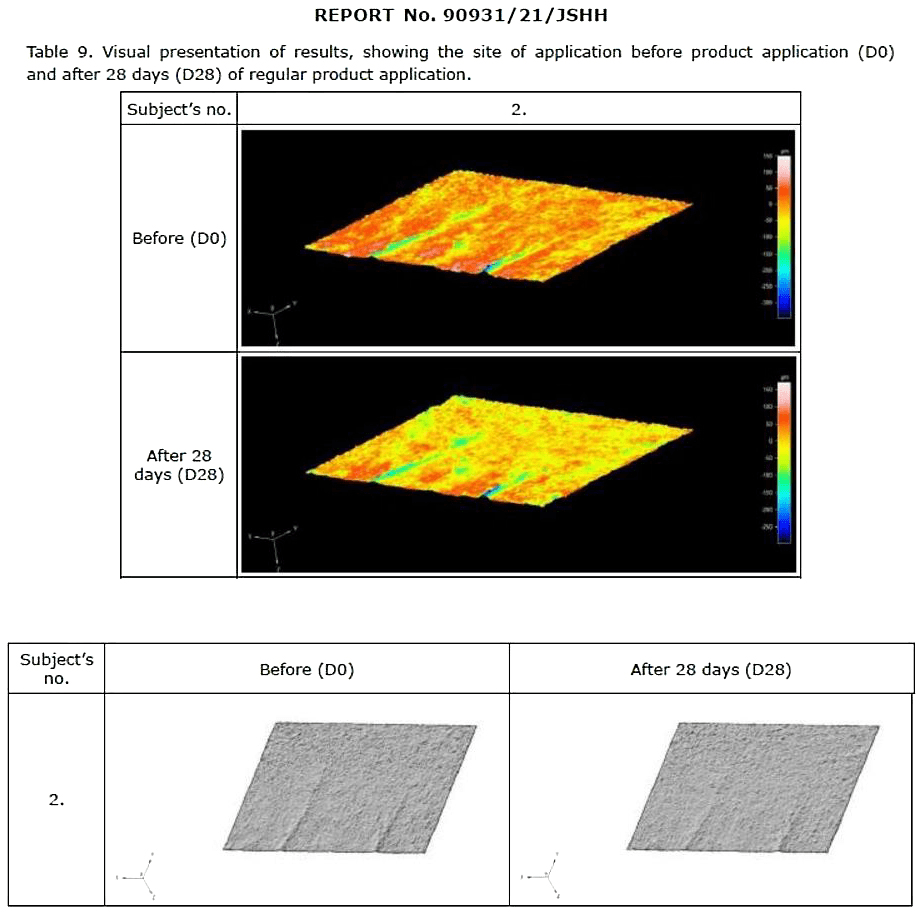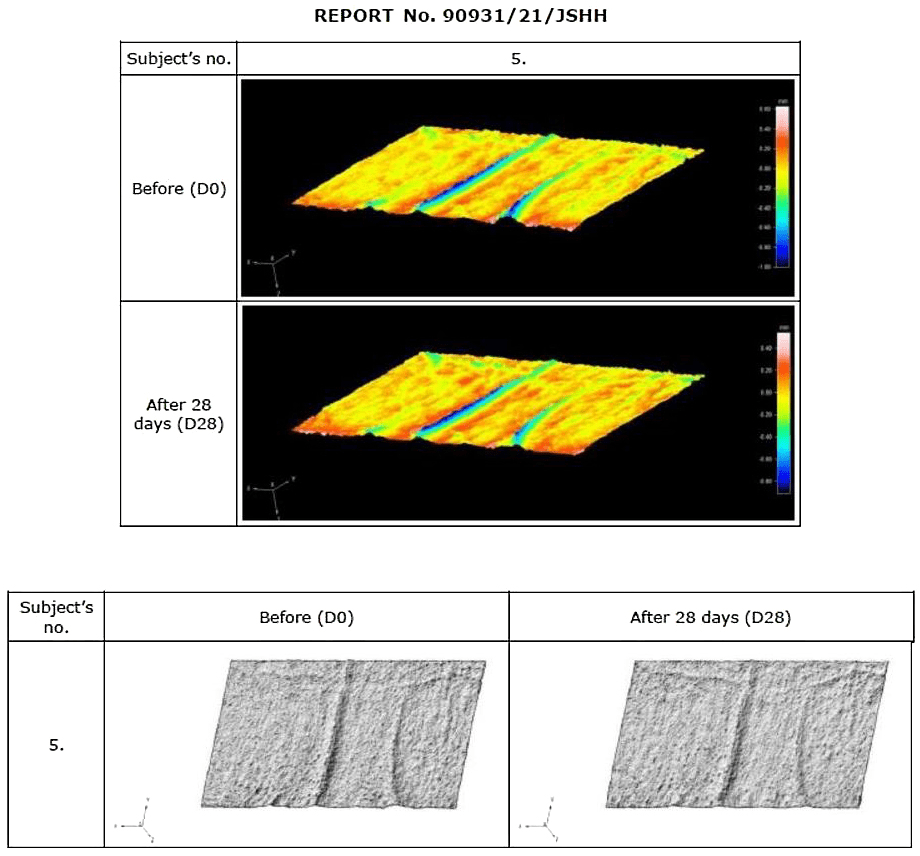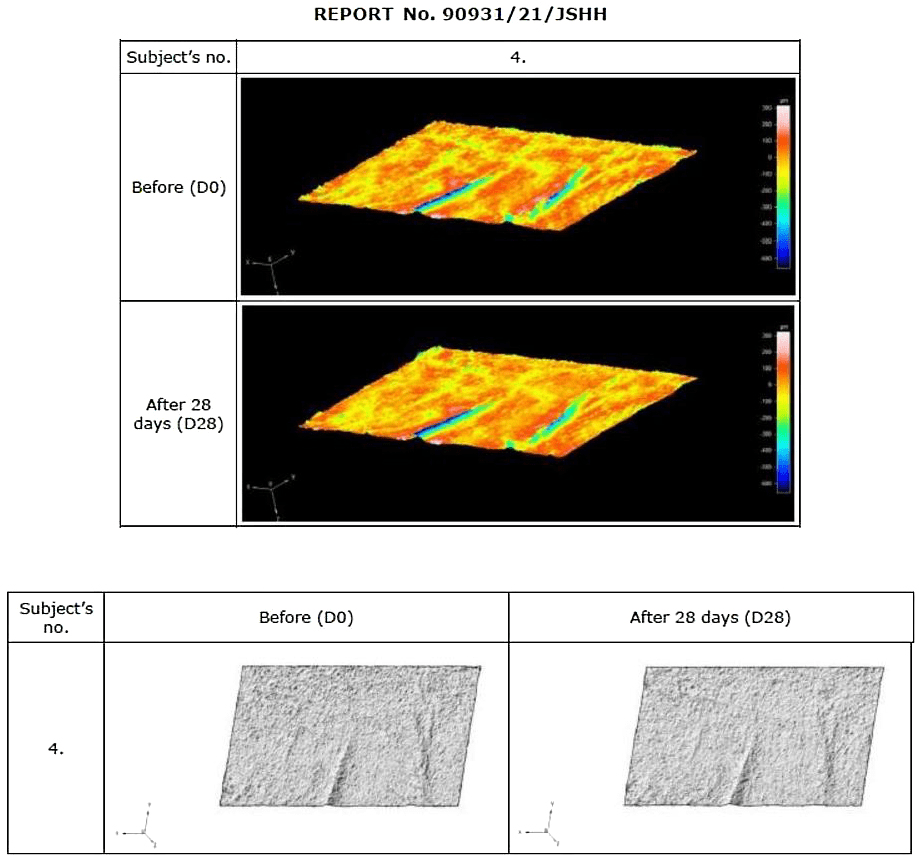 Effects
helps revitalize pale, tired, stressed skin
helps protect against the abuse of the elements
helps with elasticity and wrinkle lines
skin feels hydrated, plumped, firmed and rejuvenated
Directions for application
Use 1/3 of the dropper for face, 1/2 of the dropper for face and neck before any ilike moisturizer.
Active Ingredients
Sea Buckthorn, Cantaloupe, Elderberry, Blackcurrant, Algae, Hyaluronic Acid, Ascorbic Acid -- Carotene (Provitamin A), Vitamins A, B, C, D, E, K and P, Bioflavonoids, Omega Fatty Acids, Lipids, Amino Acids, Folic Acid, Citric Acid, Malic Acid, Pectins, Tocopherols, Phenols, Terpenes, Tannins, Sterols, Polysaccharides, Mineral Salts, Trace Elements