Probiotic Serum with Elderflower and Blackberry
---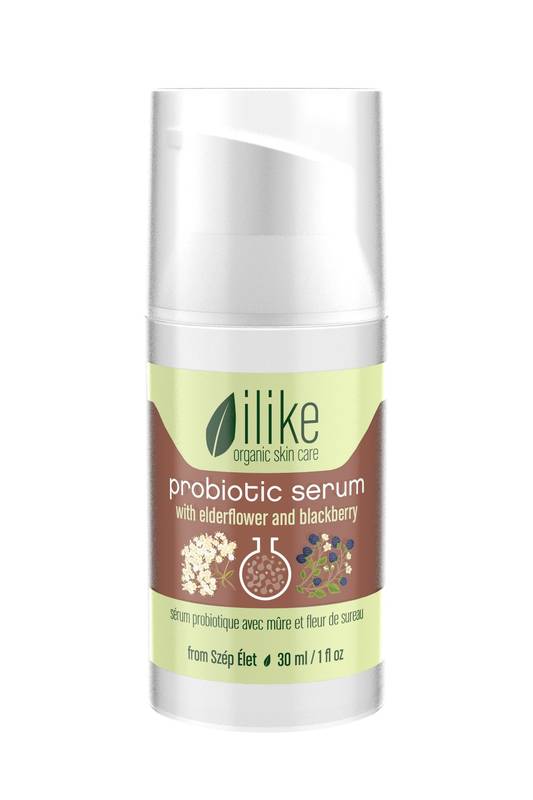 Skin types & conditions
anti-aging for premature skin
anti-aging for youthful skin
hormonal imbalances
oily, acne, inflamed skin
sensitivity/rosacea
serums & oil concentrates
specialty products

Probiotics increase the natural healing abilities of the skin, Hyaluronic Acid replenishes moisture, Lactic Acid brightens, while antioxidant-rich and anti-inflammatory botanicals slow the aging process of all skin types including acneic conditions.
Clinically proven results: Probiotic Serum for all skin including acneic improved acne conditions in 82%, and mattified and smoothed skin in 92% of users improving its overall condition, while decreasing fine lines by 29% in 4 weeks. (Report Nr 498708/17/JSHH)
Skin types & conditions
anti-aging for premature skin
anti-aging for youthful skin
hormonal imbalances
oily, acne, inflamed skin
sensitivity/rosacea
serums & oil concentrates
specialty products
Effects
helps maintaining a healthy skin microbiome
helps restoring moisture and minimizing moisture evaporation with Hyaluronic Acid
brightens skin complexion
skin looks smoother and well hydrated
Directions for application
Apply a thin layer of serum after cleansing and toning, or exfoliation and mask during the hydration steps of your skin care regimen. Apply your ilike moisturizer after letting serum penetrate for 30 seconds. Use twice a day on entire face, neck and décolleté.
Active Ingredients
Elderflower, Blackberry, Lactococcus Ferment Lysate (probiotic), Seaweed, Hyaluronic Acid, Red Grape Skin, Algae, Ascorbic Acid, Lactic Acid -- OPCs (Oligomeric Proanthocyanidins), Polyphenols, Kaempherol, Quercetin, Anthocyanins, Bioflavonoids, Resveratrol, Vitamins A, B, C, E and H, Carotene (Provitamin A), Essential Fatty Acids, Biosugars, Fruit Acids, Pectins, Tannins, Iron, Mineral Salts, Trace Elements