Probiotic Day & Night Treatment with Elderflower and Blackberry
---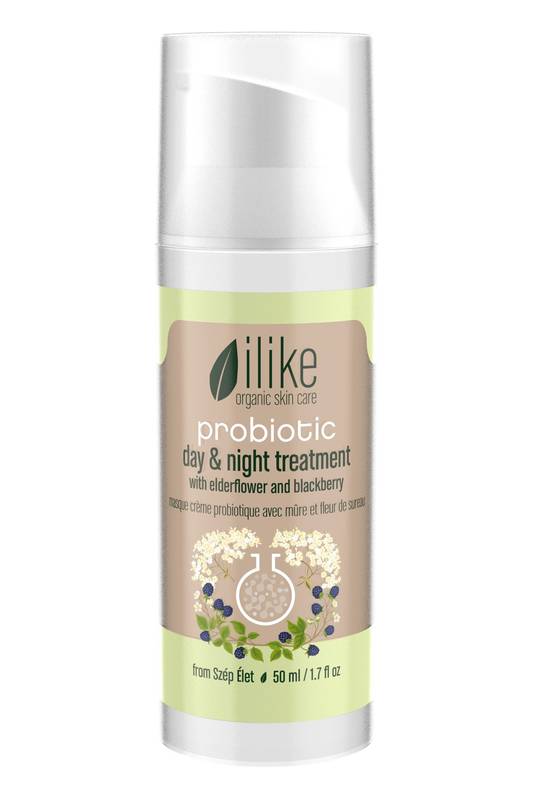 Skin types & conditions
anti-aging for mature skin
anti-aging for premature skin
body care
dry skin
hormonal imbalances
masks & special treatments
sensitivity/rosacea
specialty products
50 ml / 1.7 fl oz — 200 ml / 6.8 fl oz

This unique cream mask can be used on face, neck and decollete, and can even be left on overnight to work for a healthy skin microbiome. Probiotics heal and renew the skin, herbal oils deeply hydrate, Lactic Acid brightens the complexion, while powerful antioxidants slow the aging process.
Clinically proven results:
Probiotic Day & Night Treatment mask for face, neck and decollete increased the turgor of the skin, provided deep hydration and radiance to the skin in 100% of users, while providing an average 12% increased turgor in 4 weeks.
Report Nr 498710/17/JSH
Skin types & conditions
anti-aging for mature skin
anti-aging for premature skin
body care
dry skin
hormonal imbalances
masks & special treatments
sensitivity/rosacea
specialty products
Effects
helps to improve skin microbiome
deeply hydrates
smoothes skin
brightens skin
skin looks rejuvenated and soft
Directions for application
Apply to cleansed skin over entire face and neck area and leave on for 15-20 minutes (may be steamed). Remove with a damp face towel. Finish with an ilike toner, serum and moisturizer. Recommended home use is 1-2 times per week or as needed.
Active Ingredients
Castor Seed Oil, Grapeseed Oil, Elderflower, Blackberry, Shea Butter, Bentonite, Lactococcus Ferment Lysate (probiotic), Seaweed, Ascorbic Acid, Red Grape Skin, Sunflower Seed Oil, Lactic Acid -- OPCs (Oligomeric Proanthocyanidins), Polyphenols, Kaempherol, Quercetin, Anthocyanins, Bioflavonoids, Resveratrol, Vitamins A, B, C, D, E and H, Beta-Carotene (Provitamin A), Fatty Acids, Biosugars, Fruit Acids, Pectins, Tannins, Iron, Mineral Salts, Trace Elements