Nettle Exfoliating Wash
---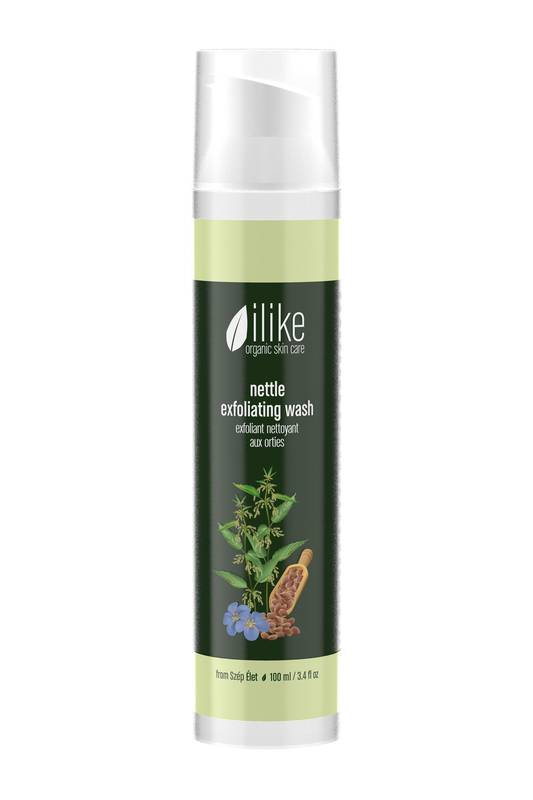 Skin types & conditions
anti-aging for mature skin
anti-aging for premature skin
body care
cleansers
dry skin
hormonal imbalances
hyperpigmentation
Wash both your face and body with this deep cleansing gel that leaves skin feeling refreshed, smooth and moisturized for dry, itchy, dehydrated skin types. If parts of your body need hydration, apply this cleansing concentrate and rub thoroughly with a loofah sponge, which gets rid of dead keratin cells while massaging your skin and leaving a soft surface. Made from refreshing organic nettle.
Skin types & conditions
anti-aging for mature skin
anti-aging for premature skin
body care
cleansers
dry skin
hormonal imbalances
hyperpigmentation
Effects
softens
gently removes the accumulated keratin layer
skin feels revitalized
Directions for application
Mix a small amount of exfoliating wash with water in hands. Apply and massage into skin with fingertips for 1 to 3 minutes in a circular motion covering the entire face and neck and avoiding the eye area. Remove completely with damp face towel and follow with a refreshing ilike toner and the moisturizing steps. Recommended home use is 2 times a day. This product can be used on both face and body.
Active Ingredients
Flaxseed Oil, Nettle, Lemon Peel Oil, Lemon Balm Oil -- Pectins, Lignans, Fatty Acids, Vitamins B, C, E, F, K and U, Sterols, Kaempferol, Quercetin, Isorhamnetin Bioflavonoids, Chlorophyll, Mineral Salts, Trace Elements