Brightening Moisturizer for Face, Hands and Body
---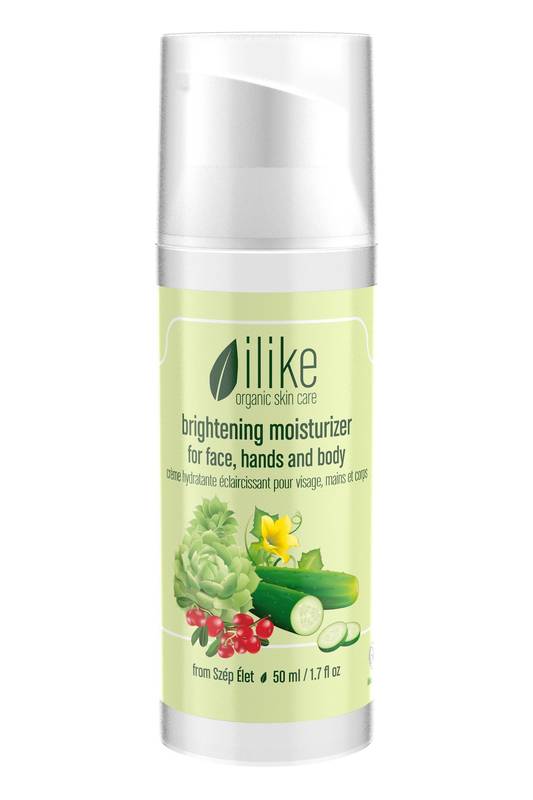 Skin types & conditions
anti-aging for mature skin
anti-aging for premature skin
body care
hand and foot care
hyperpigmentation
moisturizers
specialty products

This moisturizer is designed for the sun damaged, blotchy skin with hyperpigmentation on your face or decollete or hand. Don't let your hands or body skin tone slip your age!
Skin types & conditions
anti-aging for mature skin
anti-aging for premature skin
body care
hand and foot care
hyperpigmentation
moisturizers
specialty products
Effects
brightens uneven skin tone
brightens complexion
hydrates
vitalizes
Directions for application
Apply a thin layer of moisturizer over pigmented areas of the face, hands and body. Use the ilike Vita-C Booster before applying the moisturizer or enrich cream with an ilike oil concentrate for an even deeper hydration. For exfoliation use ilike Yogurt Power Peel or Rosehip Exfoliator. Sun protection is essential. Recommended home use is twice a day for weeks.
Active Ingredients
Stonecrop, Cucumber, Bearberry, Sesame Seed Oil, Castor Oil, Lactic Acid, Ascorbic Acid, Castor Seed, Ascorbic Acid, Orange Peel Oil, Sunflower Seed Oil, Lemongrass Oil – Citric Acid, Malic Acid, Malonic Acid, Free Amino Acids, Phenol Carbonic Acids, Riboflavin, Vitamins A, B, C, D and E, Beta-Carotene (Provitamin A), Bioflavonoids, Pectins, Chlorophyll, Plant Proteins, Fatty Acids, Mineral S alts, Trace Elements