AHA Fruit Peel
---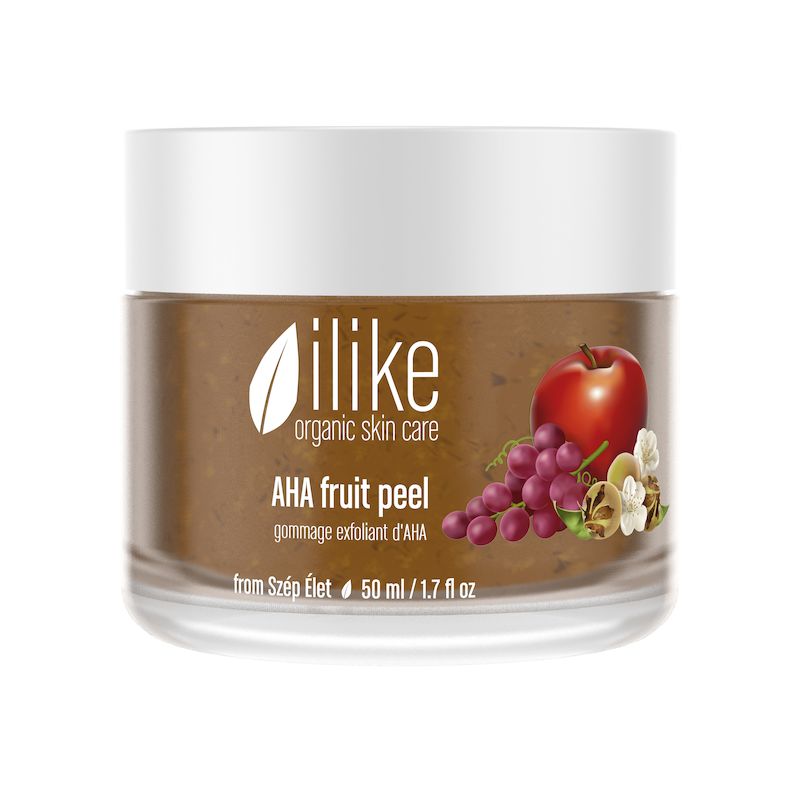 Skin types & conditions
acne care
anti-aging for youthful skin
exfoliators & peels
hormonal imbalances
oily, acne, inflamed skin
sensitivity/rosacea
50 ml / 1.7 fl oz — 125 ml / 4.2 fl oz — 250 ml / 8.4 fl oz

This peel with fruit acids provides amazing results for every skin type. Containing Apple, Grape and Medlar (Naseberry), it is the key product of a signature treatment from ilike organic skin care.
Skin types & conditions
acne care
anti-aging for youthful skin
exfoliators & peels
hormonal imbalances
oily, acne, inflamed skin
sensitivity/rosacea
Effects
reveals a fresh layer of skin
cleanses skin for a revitalized look
reduces the appearance of aging and signs of inflammation
Directions for application
Apply a thin layer of peel over entire face and neck (avoid eye area), then apply a thin layer of Hungarian Paprika Gel Treatment over it. Leave on for 20-25 minutes until it dries (you may place a dry gauze mask on top to speed the process). Do not steam. Peel the gauze off gently (downwards) and wipe off any remaining treatment residue. Follow with extractions, ilike mask, serum, moisturizer and sun protection. Recommended series is 2 times on Week 1-2, once on Week 3-4, biweekly on Week 5-8, then once a month or as needed.
Active Ingredients
Apple, Grape, Medlar (Naseberry), Lactic Acid, Algae, Ascorbic Acid, Lemon Grass Oil, Salicylic Acid -- Fruit Acids, Malic Acid, Pectins, Kaempferol Bioflavonoids, Polyphenols, Beta-Carotene (Provitamin A), Tannins, Biosugars, Vitamins A, B, C, E and K, Sorbite, Fatty Acids, Mineral Salts, Trace Elements