Spice Up Your Fall!
Get ready for Pumpkin Season with our Pumpkin & Orange Mask and Hydrating Pumpkin Body Wrap!
---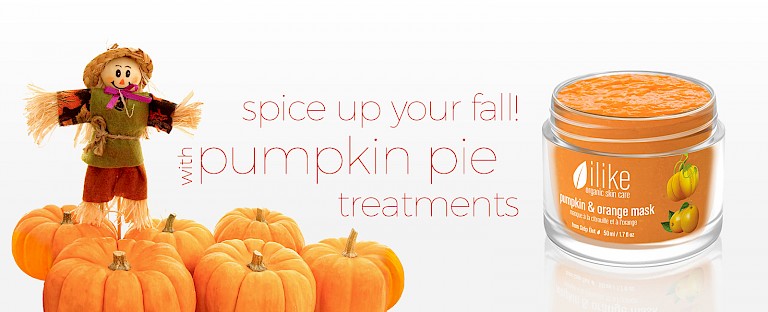 Pumpkin is very rich in skin health boosting nutrients. The most important amongst them are the alpha and beta carotenes. Carotenes are the orange pigments in the vegetable that act as important antioxidants that boost immunity and slow the degenerative process of aging by protecting the cells from damage caused by free radicals.
Nutrients in Pumpkin
Beta carotenes generate Vitamin A in the body that ensures proper immune functions. Other vitamins pumpkins are rich in are Vitamin C and E, both with antioxidant functions to benefit tired, stressed skin. The vegetable also provides Vitamin B5 (Panthotenic Acid) that balances hormone levels and manages stress.
Pumpkin is a good source of lutein, an antioxidant that absorbs blue light and protects from oxidative stress. Fatty acids, potassium, magnesium, zinc and iron are important nutrients that pumpkin provides the skin to balance fluid levels, sooth and soften the skin and help in the cell regenerating process. Pumpkin also has a relatively low pH that protects the skin from bacteria and infections. Pumpkin is the main ingredient in our Pumpkin & Orange Mask and Hydrating Pumpkin Body Wrap. We use cold processed, whole raw pumpkin pulps (instead of extracts) to retain the full benefit of the vegetable and keep all nutrients in the rawest form for better absorption.
The ilike organic skin care pumpkin products
Effectively treat aging, loose, lack of circulation and dry skin – both on the face and the body – to hydrate, soften and elasticize.
They rejuvenate tired, stressed skin and create a healthy glow.
They also smooth the skin by promoting cell turnover, thus preventing the skin from getting dry, scaly or rough.
Pumpkin is beneficial all year around. However, as autumn arrives and "Pumpkin Fever" takes over, there are many spas that feature the ilike Pumpkin treatments for this special season. But this is not only beneficial for marketing purposes. Mother Nature takes care of us in a very thoughtful way and the abundance of pumpkin at this time of year may not be simply coincidental. During the summer, our skin can become dehydrated and the damaging rays of the sun can speed up the aging process. At the same time the dry, cool winter months are approaching. So, this is probably the best time of the year to rehydrate and rejuvenate the skin.
Protocols and promotion details
Spa partners please click here for treatment protocols and promotion details.